Looking For A Quality Service On Your Next Home Improvements Project?
Ayrshire Windows & Double Glazing Fitters
New windows can offer your home a wide range of benefits such as cutting out external noise keeping your home peaceful. Quality double glazing and triple glazing can also save energy by making your heating more efficient which will save you money on costly heating bills. It is estimated that up to 60% of a home's heat is lost through a single pane window. That's why we use 'A' rated Planetherm glass in order to make your home more thermally efficient, cutting heating costs and reducing your emissions.
Annandale Home Improvements are specialist fitters of windows & double glazing and we ensure that you are well taken care of throughout the job. We are prompt, tidy and have expertise in all areas to ensure that we provide you with the best solutions for your home at a cost that provides exceptional value as well as outstanding quality.
Whether it's casement windows, tilt'n'turn, fully reversible, or vertical sliding sash windows, our windows are all manufactured to your chosen style and colour. Our windows are offered with a variety of internal finishings, PVC or Timber including: Pine, Oak, Mahogany, MDF and more. We also provide varnishing to enhance and protect your timber finishings. All products are fully reinforced and are 70mm frames which provide maximum security to your property and minimum disruption to your property internally.
We offer to beat any like for like written quotation so contact us today and find out how Annandale can provide you with the best price and service for your new windows. Contact Annandale Home Improvements today for more information and quotations by calling 01563 540762 or use our website enquiry form.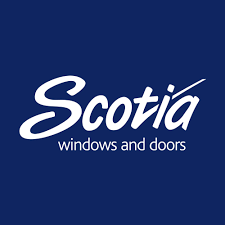 We fit Scotia windows as Scotia have manufactured and installed high quality Double Glazing since 1983. Scotia's Double Glazed windows are made up using two sheets of glass with the space between filled with Argon gas. This make up creates a more effective insulating barrier which increases the Thermal resistance of the double glazed window.
Glazing Options
We offer double and triple glazing windows. Double glazing is a great way to save money through reducing the effect of heat loss which will also reduce your carbon footprint. It is also a great way to reduce noise pollution in your home. Customers often remark how much quieter their homes are after a new install from single pane glass, this is a great benefit if you live near an area with high traffic. Triple glazing offers the same advantages but gives greater results. We can advise you on what will suit your needs best.
Vast Range of Designs
Better efficiency and thermal insulation are welcome advantages to new windows, but that's not all new windows can offer your home. We can supply your windows in a wide range of secure, UPVC, no maintenance frames in various colours to improve the appearance of your home. If you are looking for that extra touch, we can even personalise your glass with some designs and coloured panes from a subtle diamond to an intricate floral pattern. We have brochures available for all customers to pick from to make sure your new windows are unique to you and your home.
"Having just had 7 windows.. Front door.. Back door and French doors replaced by annandale.. I couldn't honestly recommend them highly enough. The guys were great.. On time.. Extremely tidy.. Polite.. Never stopped. Price was great. Quality is brilliant. Would recommend them!!"
"I have just had a new front and side door fitted. Absolutely delighted with them both. Brilliant service, friendly workers, and most importantly, very high quality doors fitted to perfection. Would thoroughly recommend and will definitely use them again. Thank you!"
"Had our new windows fitted today they look brilliant.Thanks Gary would definitely recommend Annandale Home Improvements."
"Had our bedroom window fitted with triple glazing today and the rest of our windows which hadn't already been replaced. Great quality and great workmanship. No mess at all. Very reliable and would certainly recommend thanks a lot!"
Let us know how Annandale Home Improvements can help you and we'll be in touch with more information and a free, no obligation quotation.